WORK At the Forefront of Arctic Technology and Ship Design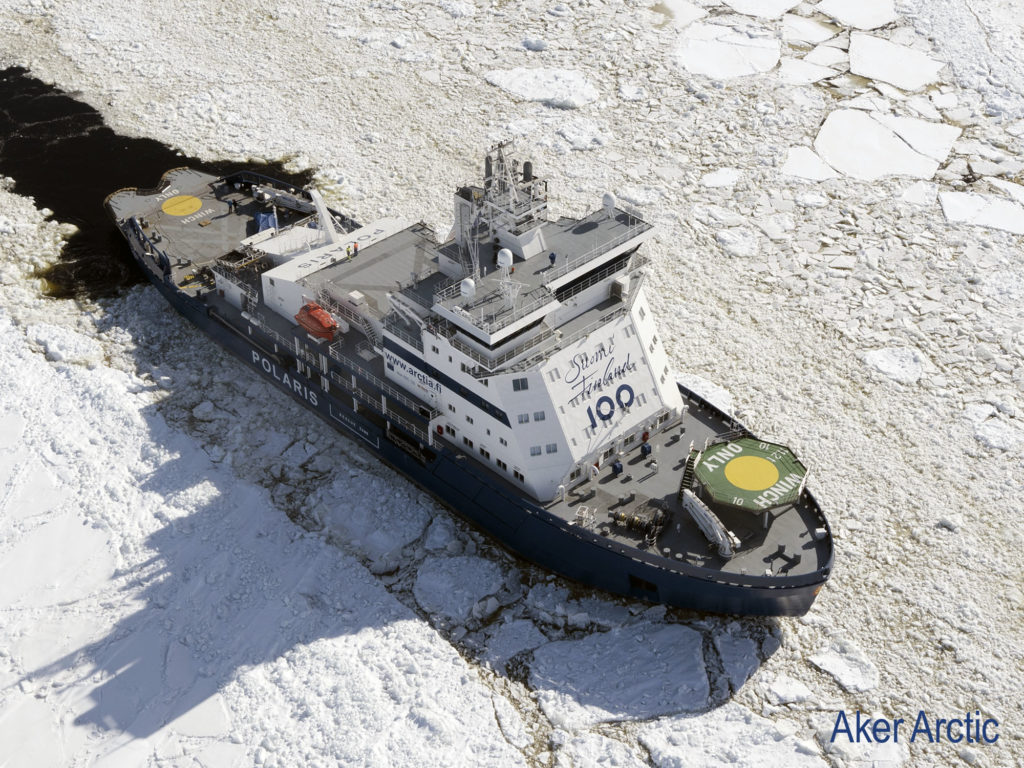 Aker Arctic is a private company specializing in the development, design, engineering, consulting and testing services for ice-going vessels, icebreakers, offshore marine structures, marine transport solutions and ports.
Our experienced, highly qualified and dynamic team provide our customers with specialized arctic expertise together with cost effective and reliable solutions. Employing about 50 people we have a current turnover over of 10 million euros.
We are known internationally for our innovation and for challenging engineering norms. We take pride in our position as the world leader in designing ships for arctic regions: With eight of our designs currently under construction at various yards around the world, and with a track record of over 60% of the world's icebreakers we are always learning. Our greatest assets are our people and our success depends on them – work with us at the forefront of delivering novel and bespoke engineering at a world class level.
What we offer
We offer secure, permanent positions; a strong order book; long term career development opportunities and an exciting, dynamic working environment.
Working with us is rewarding. We focus on success together with our clients. We build on each other's strengths and we work to develop ourselves. A company bonus scheme helps us to recognize this too.
We are hiring!
We have a growing number of design projects and are looking for several experienced ship engineering professionals to join us in our Helsinki office:
Project Manager
Your main duty will be to lead design projects from concept initiation to delivery of basic design material. Experience of leading technical design projects is required. Marine industry experience is essential. You will be responsible for project execution, financial control and technical results. Your task will include planning, contracting, budgeting, scheduling, resource allocation and reporting. You will be proficient at stakeholder management, especially communication between internal resources, clients and authorities. A passion for bringing a team together to deliver success is a must.
Naval Architects
Our naval architects are involved throughout our design development process, interacting with clients to deliver innovative designs while coordinating the overall technical development. We look at things differently and our naval architects are key to our success in finding the best solutions for our clients. Candidates with a strong technical knowledge and a capability to apply this in new ways are encouraged to apply for the following roles:
Senior Naval Architect – working alongside experienced discipline leaders, your role as a Chief Designer includes overall technical responsibility for the success of the design, from initial client interactions to shipyard delivery material.
Naval Architect – reporting to the Chief Designer / Project Manager, you will be responsible for producing technical documentation in support of ship design development projects from concept sketches to basic design material. Entry level candidates are also encouraged to apply.
Machinery Systems Specialists
Our expanding role in basic design projects means we are looking for specialists able to be responsible for the delivery of machinery system design and documentation from early stage concept development to basic design.
You will be an experienced designer, capable of independent work as well as able to lead/coordinate the work done in-house and by our subcontractors. Competencies of piping systems, HVAC or LNG systems are considered highly beneficial. Development opportunities also exist for growing talents to become part of our world leading design team.
Open Applications
If you're passionate about Arctic technology and have experience in the marine industry and you feel we could benefit from your skills, we encourage you to submit an open application.
Information about positions:
Mr. Mika Hovilainen, Head of Ship Design, +358 40 522 4765
Mr. Rob Hindley, Head of Machinery and Structures, +358 40 126 0731
Send your application and CV, in English, with salary expectation by email to info@akerarctic.fi latest on 27.05.2019.
Here you can find The use of personal information obtained during the recruitment process at Aker Arctic.