Icebreaker Andrey Vilkitsky delivered
On 15 December 2018, Andrey Vilkitsky arrived in St. Petersburg after completing sea trials in the Gulf of Finland. The icebreaker will soon depart for the Gulf of Ob in the Russian Arctic and join her sister ship, Aleksandr Sannikov, at Gazprom Neft's Arctic Gate offshore oil terminal. The vessel is named after the 19th century hydrographer and surveyor Andrey Ippolitovich Vilkitsky.
In 2014, Aker Arctic responded to a request for bids issued by Gazprom Neft with a preliminary design based on the Aker ARC 130 Baltic Escort Icebreaker concept developed for the Finnish Transport Agency. The derivative design, Aker ARC 130 A (for "Arctic"), featured additional ice strengthening and higher propulsion power to meet the demands of the harsh Arctic environment. The construction of two diesel-electric icebreakers was awarded to Vyborg Shipyard in 2015 with Aker Arctic providing a design developed in close co-operation with the owner and the shipyard. The icebreaking capability was also verified at our ice model test laboratory in Helsinki, Finland. The first vessel, Aleksandr Sannikov, was delivered already in June 2018 after only two years and eight months of construction, and has already begun operations in the Gulf of Ob.
Aker ARC 130 A design provides exceptional operational icebreaking capability in the challenging Arctic ice conditions: the 21.5-megawatt diesel-electric icebreaker is capable of breaking 2 m thick level ice with a 30 cm snow cover at a speed of two knots in both ahead and astern directions. With three azimuthing propulsion units – two in the stern and one in the bow of the vessel – the highly-manoeuvrable vessel is perfectly suited for demanding icebreaking and escort operations in consolidated ridge fields and compressive pack ice. In addition to ice operations, Aker ARC 130 A is equipped for towing, firefighting and oil spill response operations at the offshore oil terminal.
General characteristics for Andrey Vilkitsky:
Ship type: Icebreaking Support Vessel (ISV)
Length: 121.7 m
Beam: 26 m
Design draft: 8 m
Power plant: 2 x Wärtsilä 8L32E + 2 x Wärtsilä 16V32E
Propulsion: Diesel-electric, three ABB Azipod propulsion units (2 x 7.5 MW + 6.5 MW)
Ice class: RMRS Icebreaker8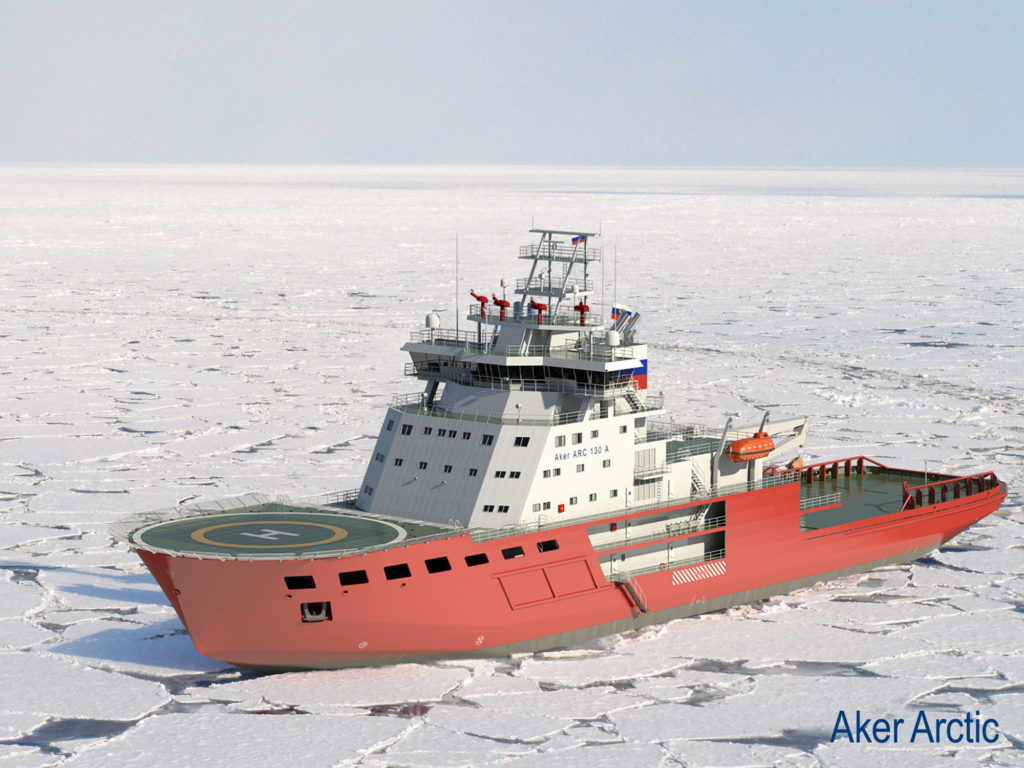 Read more on Aker ARC 130 project