Naming ceremony for the Arctic Condensate Tanker
The naming ceremony for the Arctic condensate tanker Boris Sokolov was held at Guangzhou Shipyard International on 4 December 2018. The Arc7 ice class ship is named after Captain Sokolov who commanded the world's first nuclear-powered icebreaker for almost 40 years. The vessel's godmother is Yuliya Zobova from PAO NOVATEK.
In 2014, Aker Arctic began investigating options for year-round transportation of gas condensate, a liquid by-product from natural gas fields, in co-operation with Yamal LNG. Following the development of the Aker ARC 212 Arctic Condensate Tanker concept, a design licensing agreement for the basic design and construction of the vessel was signed with the Chinese shipbuilder Guangzhou Shipyard International. In the coming days, the Boris Sokolov will join Dynacom Tankers Management's fleet and begin its voyage from China to the Arctic along the Northern Sea Route. The oil tanker will be used primarily to transport gas condensate from Sabetta LNG terminal to customers in Europe and Asia.
Boris Sokolov is based on the proven Double Acting Ship (DAS™) principle that allows tankers and cargo ships to operate independently without icebreaker assistance in challenging ice conditions. When operating stern-first, the vessel can break up to 1.8 m thick ice in a continuous motion and penetrate ice ridges without backing and ramming. In moderate ice conditions and open water, the vessel sails normally in ahead direction. The independent icebreaking capability has been verified in Aker Arctic's ice model test laboratory in Helsinki, Finland.
General characteristics for Boris Sokolov:
Ship type:                                      Product tanker
Length:                                           214 m
Beam:                                             34 m
Draught (design/max):             11.7/12.65 m
Deadweight:                                43,300 tons (condensate), 49,700 tons (oil)
Power plant:                                2 x Wärtsilä 12V32 + 2 x Wärtsilä 16V32
Propulsion:                                   Diesel-electric, ABB Azipod (2 x 11 MW)
Ice class:                                        RMRS Arc7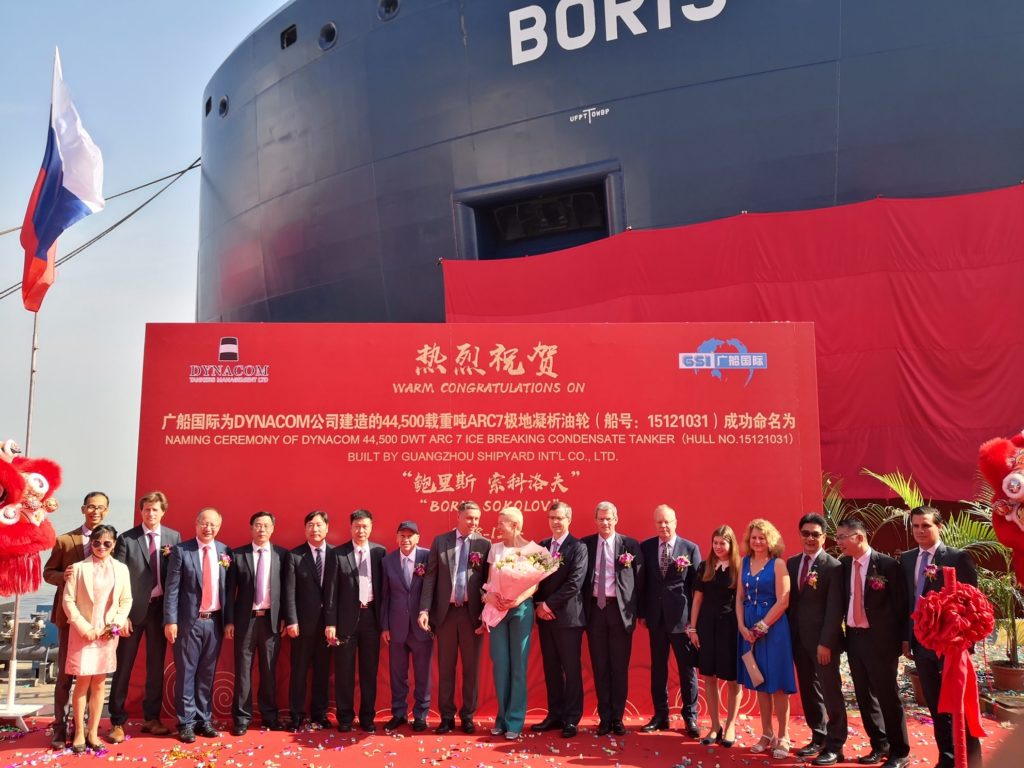 Read more about Aker ARC 212 project here