POAC 2023 in Glasgow, UK. June 12–14, 2023
Aker Arctic attends POAC 2023. The event is dedicated to topics related to coastal and offshore engineering in ice-covered waters.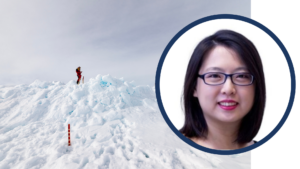 Hanyang Gong, Research engineer at Aker Arctic, brings the presentation for better understanding ship resistance in ice ridges.
We will be presenting a paper titled "Velocity Field and Force Distribution in an Unconsolidated Ice Ridge Penetrated by a Ship" at POAC2023. The research was conducted at Aalto University, and we used a three-dimensional discrete element method to study the kinetic behavior of ice blocks within the ridge. Our findings suggest that ridge failure by a ship is a gradual process rather than a sudden one. Additionally, fast-moving ice blocks were found to be closer to the ship's bow, while stationary or slow-moving blocks were further away. Finally, we observed that loads within the ridge were transmitted through force chains.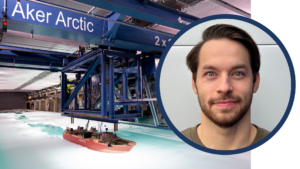 Eetu Seppänen, Research engineer at Aker Arctic participates with the topic "Model Test Method Development for Reviewing Notch Towing Properties of an Icebreaker"
In this paper, a study is introduced in which a model-scale test method for reviewing the towing properties of an icebreaker was developed. The study included a literature overview of notch towing and an experimental part where notch towing operations were tested on a model scale. The main result proves the functionality of a 90-degree turn when modeling the notch towing situation. The method can be used, for example, to compare different concepts when evaluating towing properties.
Both topics aim to improve ship performance at design stage.
Contact us for more details.