The behaviour of ice around ships, offshore structures, and port facilities can be complex.  Visualization of the ice's behavior and quantifying the performance is a critical part of selecting concepts or designing vessels.  Model testing in ice is a proven and cost-efficient tool used in the development of ship projects, offshore transportation and production projects, port solutions, and for the verification of a ship's ice performance.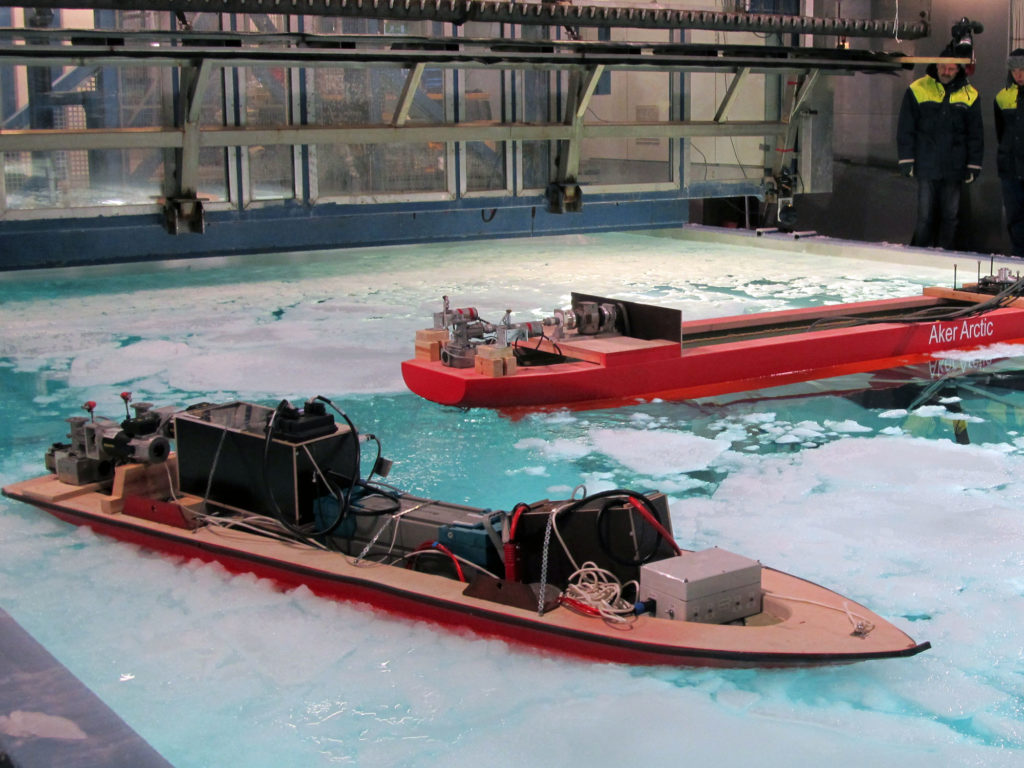 Aker Arctic has been at the forefront of ice model testing technologies for decades, and currently operates a third-generation testing facility (Read more: about the 50 years of ice model testing).  Ice model tests can be conducted either at our in-house facility or at the Aalto University ice tank thanks to our co-operation agreement.  Our in-house basin is 75 m by 8 m and contains bottom and side viewing windows, providing unprecedented visualization.  The Aalto tank is 40 m by 40 m, making it ideal for maneuvering and operational model tests.  Both facilities use state of the art technologies to model real ice conditions including first and multi-year level ice, brash ice channels, ice rubble and ridges, floe ice, and first and multi-year ridges.
These facilities combined with our experienced and knowledgeable model testing team can be used to engineer a wide variety of tests to suit our customers' needs.  The types of tests that have been performed in our facilities include:
Icebreaking performance and power predictions of ships
Ship maneuvering tests in ice
Ice load and impact tests of floating and fixed marine structures
Mooring tests of floating vessels using an underwater carriage
Dynamic position (DP)
Loading and offloading operations
Tests of ice encroachment on artificial islands and ice protection units in shallow waters
Brash ice melting systems
Ice formation and melting tests
Autonomous ship testing
Testing of multi-vessel operations
Hull coating friction tests
Do you have questions about this service? Contact us.