Ice is a hinderance to navigation but can especially impede maneuvering and berthing operations that can already be the most sensitive part of a vessel's voyage. Ice can add hours to the time required to berth a vessel, interrupting the port's schedule and delaying shipments. Our port concepts are designed to mitigate the influence of ice, facilitating fluent port visits and improving the port's efficiency and reliability.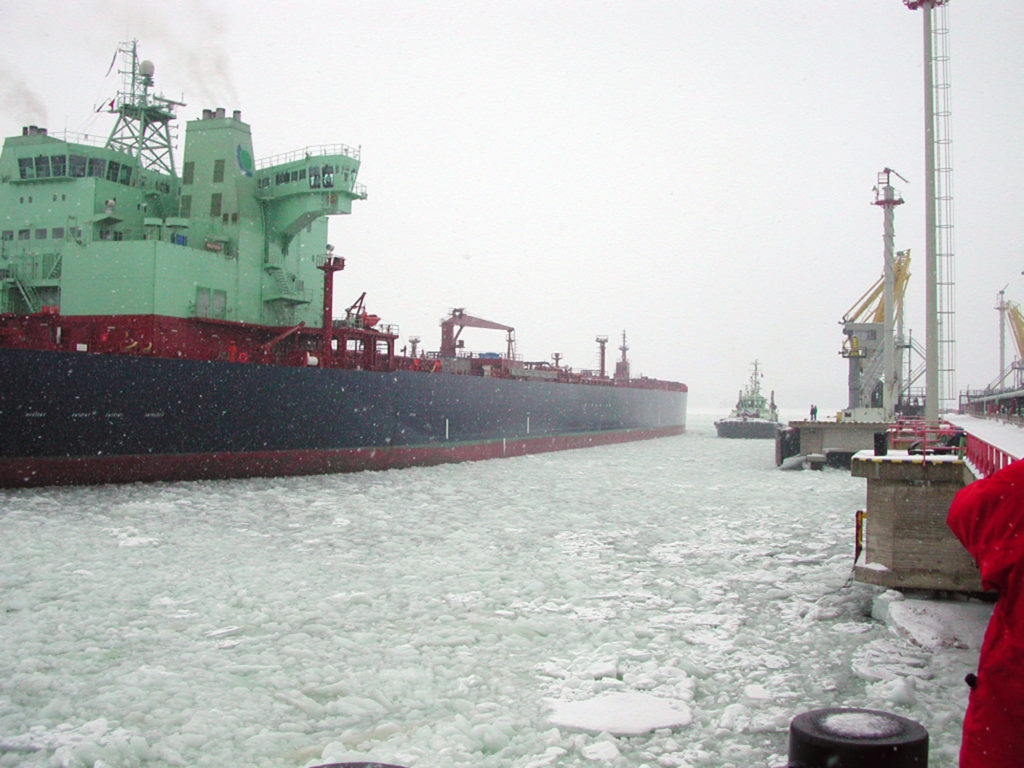 The vast majority of Finland's imports and exports are transported via its ports – all of which encounter sea ice during the winter shipping season.  The presence of ice limits maneuverability and can prevent vessels from coming alongside.  Furthermore, frequent ship visits in low air temperatures accelerate ice formation, which may restrict access to the port altogether.  Various solutions from improved port layouts to methods of eliminating ice buildup have been developed in Finland to address these challenges.  Aker Arctic delivers these solutions to its international customers. 
To achieve a port concept that realizes a suitable balance of efficiency, cost, and safety, Aker Arctic utilizes a trade study to evaluate various concepts.  The process begins by defining key parameters affecting the design including vessel traffic type and frequency, ice conditions, and port tug requirements. Potential concepts are then established in partnership with our customers, which are then refined and compared based upon the customer's objectives and priorities.  Various design aspects intended to reduce ship visit times, improve regularity, and increase safety that can be included in the concept are: 
Port layouts to provide sufficient room for maneuverability

 

Berth designs to limit ice accretion and accumulation

 

Ice defense structures to stabilize ice and eliminate ice pressure in the port

 

Water circulation systems to reduce ice formation near the berth

 
The resulting design delivers economic benefits for both the port and the ship owners.  Ship owners reduce vessel time and fuel usage associated with port visits, increasing vessel utilization.  Port owners can maintain cargo throughput during the winter shipping season while reducing the requirements for port icebreakers and tugs. 
Aker Arctic Technology's solution for arctic port concepts can include: 
Evaluation of port location alternatives

 

Ice design basis

 

Review of relevant standards, regulations and guides

 

Description of optimized port layout and types of structures needed

 

Description of means to reduce ice formation inside the port

 

Number and types of required tugs

 

Description of port construction methods

 

Investment and operational cost estimates

 
Aker Arctic offers its clients different port conceptual design and consultancy services together with Eranti Engineering. In detailed design and construction phases, Aker Arctic and Eranti Engineering may also provide tailored project follow-up and quality management services for our customers. 
Some articles regarding Arctic Port solution in our Arctic Passion News issue:
Brash ice management in harbour areas  2/2015
Cooperation on Novy Port project 2/2015
Do you have questions about this solution? Contact us.