Marine professionals understand that there is no single perfect ship. The role of a ship designer is to balance the variety of performance requirements to achieve a vessel that is tailored for its specific mission profile. Aker Arctic has the tools and skills to evaluate all aspects of vessel performance – in ice and open water – to ensure that our customers' vessels are optimized for their mission.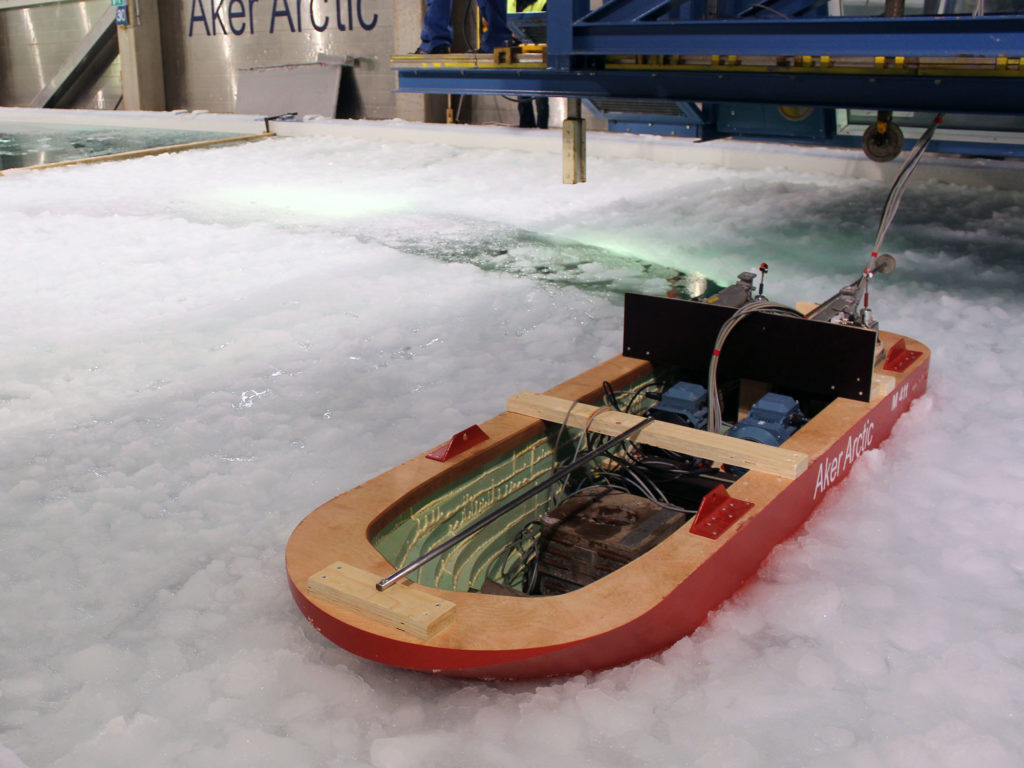 Not all ice-going vessels spend their entire life in ice – more often than not, ice operations are only a small part of a vessel's total voyage.  Hence, it is important to consider all aspects of a ship's performance: from ice resistance to open water resistance, and from maneuverability to slamming.  Shipowners will place requirements on various aspects of a ship's performance, and designers and shipyards must ensure that their designs will meet the owner's requirements.  Aker Arctic has the tools and know-how to evaluate all types of vessel performance. 
The core of our performance evaluations is our ice model basin.  Owning our own basin allows us to provide the most accurate estimates of vessel performance at the lowest possible price.  Having operated two previous ice model basins, we have refined our testing technology to be the highest quality.  Our patented model ice provides uniform ice thickness and flexural strength that can be varied within a wide range.  More complex ice regimes such as brash ice, ice floes, and ridges can also be manufactured.  Aker Arctic also has close working relationships with other testing facilities that provide supplementary services, allowing Aker Arctic to provide a wide range of performance evaluations. 
Aker Arctic has also developed a large number of in-house tools for ice analysis and uses state of the art numerical tools for open water analysis.  Our performance evaluation solutions combine numerical tools with model tests results to provide the best solution for our customers.  Numerical tools can be used to narrow down concepts or to provide indicative results at low costs.  When supplemented with model testing, our numerical tools can be used to extrapolate model tests to different ice conditions and design variations while saving customers both time and money. 
All of our tools have been extensively validated using over 50 years of model test results and 200 full scale trials.  Our correlation data is the largest in the world, meaning our customers get the most accurate results.  Our unique combination of full-scale data, model testing capabilities and analytical capabilities ensures that our customers receive a complete analysis of their vessels' performance within their budget. 
Aker Arctic's performance evaluation solutions are commonly offered in conjunction with our design and engineering services.
Do you have questions about this solution? Contact us.