Aker Arctic's recent icebreaker designs built in Russia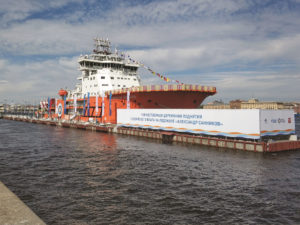 At any given time, Aker Arctic's ship design department has a few dozen active projects of various sizes in various stages of competition, ranging from minor consultancy work and preliminary sketch designs to full basic design projects and shipyard support during vessel construction. Not every ship concept development leads to the construction of state-of-the-art icebreaking vessels, but during the past few years two innovative icebreaker designs developed by Aker Arctic have progressed to the construction of the vessels at Vyborg Shipyard in Russia.
Aker Arctic has been involved with the Yamal LNG project since 2010. What began as a minor study during the pre-FEED phase has resulted in multiple new icebreaking vessel designs either already in service or currently under construction. During the preliminary development of the Sabetta terminal fleet, Aker Arctic evaluated multiple diesel-electric port icebreaker concepts with two, three or four azimuthing propulsion units with the technically demanding quad-thruster configuration emerging as the optimal solution for the demanding ice conditions in the Arctic LNG terminal. Concept development which included extensive ice model testing continued in co-operation with Yamal LNG and the future operator, Atomflot, and culminated with the construction of the Aker ARC 124 design being awarded to Vyborg Shipyard in April 2015. Aker Arctic was also contracted to continue with the full basic design of the project. The keel of the vessel was laid at Vyborg Shipyard on 27 September 2016 and the ceremonial launching event for the port icebreaker Ob was held in Vyborg on 21 June 2018.
Only a week later on 29 June 2018, the ceremonial flag-raising was held in St. Petersburg onboard Aleksandr Sannikov, followed by a farewell ceremony as the icebreaker set on her maiden voyage to the Arctic Gates offshore oil terminal in the Ob Bay. Four years earlier, Aker Arctic had prepared a preliminary concept design as a response to a request for bids issued by Gazprom Neft, proposing a further development of the Aker ARC 130 Baltic escort icebreaker concept designed for the Finnish Transport Agency. The derivative design, Aker ARC 130 A (for "Arctic"), is slightly bigger than the Finnish icebreaker Polaris with higher ice class and increased propulsion power to meet the demands of the harsh Arctic environment. The construction of two diesel-electric icebreakers based on the Aker ARC 130 A design was awarded to Vyborg Shipyard in 2015 with Aker Arctic providing a large concept package developed in close co-operation with the owner and shipyard. The construction of the first vessel, Aleksandr Sannikov, was completed in two years and eight months and the sister ship, Andrey Vilkitsky, is scheduled for delivery in October 2018.
With icebreakers based on our Aker ARC 124 and Aker ARC 130 A designs entering service in the coming winter, Aker Arctic's naval architects are already working on new icebreaker concepts.