Webinar: Icebreaking for lakes and ports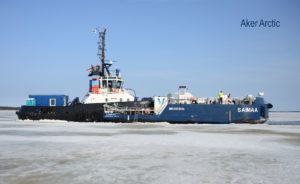 COST EFFICIENT ICEBREAKING OPTIONS FOR LAKES AND PORTS.
CASE: DETACHABLE ICEBREAKING BOW.
The limiting factor for lakes is always the canal that leads there, for both merchant ships and icebreakers. There are innovative solutions available which allows to achieve the best performance for lakes and for sea areas.
The speakers:
Jukka Salminen will speak how icebreaking is done in inland waterways.
Teemu Heinonen presents the cost efficient icebreaking option for lakes and inland waterways: a detachable icebreaking bow.
More information and free registration here 
If you want to be invited to our future webinars, please subscribe here