In early 2021, Aker Arctic began developing icebreaking Multi-Purpose Vessels (MPV) in close cooperation with Seaspan Vancouver Shipyards and the Canadian Coast Guard. Sixteen new Multi-Purpose Vessels form part of the Canadian Coast Guard's fleet renewal program.
The concept development of Aker ARC 146 is replacing up to three classes of older ships with one platform. The target is to develop a compact ship with a multitude of operational roles. The MPVs will perform cargo missions, bringing supplies to northern communities, and carry out search & rescue and patrol missions, in addition to icebreaking. Most of their time will be spent on the St. Lawrence River, the Great Lakes, and along the Canadian East Coast.
The Coast Guard selected a cooperative arrangement where the shipyard, the owner and operator, and the designer (Aker Arctic) all worked together.
The result became the concept design with a hull form which has had its performance confirmed through ice model testing. Aker Arctic has also provided the design documentation which the shipyard now takes into the functional design phase, developing the design details and approving it by the classification society.
Read more about the work done in the article Multi-Purpose Vessel designed for Canada (2023)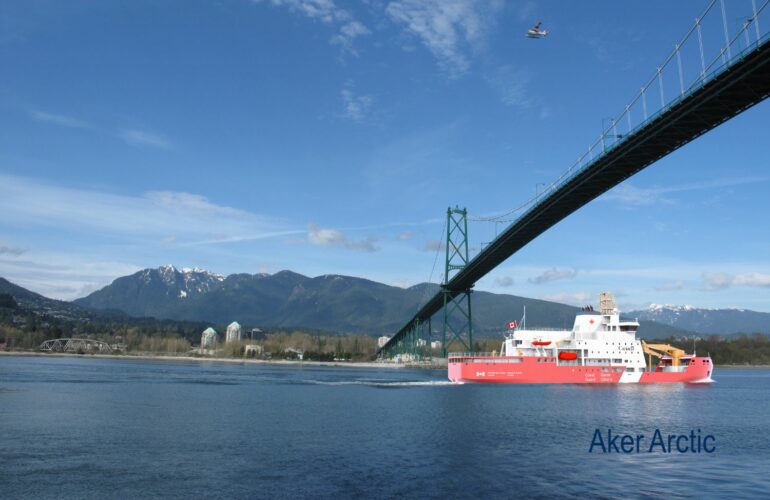 Vessel info
Type of vessel:
Multi-purpose Vessel
Type of work done:
Concept Design
Customer:
The Canadian Coast Guard
Builder:
Seaspan Shipyards
Owner:
The Canadian Coast Guard
Main dimensions
Propulsion:
diesel-electric; two azimuthing propulsion units